If you are attending or planning to attend any of our Date Night Events then please read on
BEFORE THE EVENT
Please be on time. It is recommended to give extra time if you are not familiar with the location
Please do not arrive too early. The best time would be to enter venue at exact time
Venue location is sent via email to all attendees and also updated on the different locations where you made the booking
Familiarize yourself with Group Dating page. You will be using this page to enter responses while meeting your potential matches https://www.meetndate.nl/en/group-dating/
Make sure you can see the correct Event date on the Group Dating page for which you booked for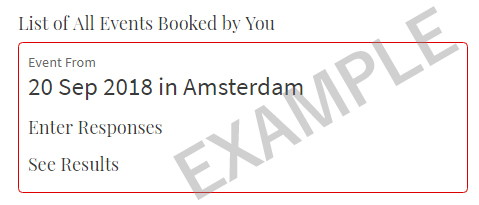 DURING THE EVENT
Please relax and be patient
Ask us any questions you may have
There will be a count down timer where you can see how much time you have remaining. We might move it around from time to time so everyone can see it.
Please rotate when you are signaled to do so. You can speak again with anyone afterwards
Enter your responses on the small paper we gave you. Afterwards copy your answers about your potential matches on to the Group Dating >> Enter Responses in your Meetndate.nl account.

Paper sheet will be given because it is best to write your responses on paper because it's quick and a backup in case something is not working on your mobile device
It is your responsibility to enter your answers within 3 days after the event after which results will be available
If you would like us to enter your responses on your account then email us your responses and we will enter them on your account for you

Please do not send us picture of your page but a type your answers in your email

If for some reason you have any difficulties please email us at

[email protected]

and we will get back to you quickly

Feel free to exchange contacts during or afterwards.
You may use Conversation Cue Cards for an interesting conversation
After all rotations you are welcome to stay around to chat more with whoever you may want
AFTER THE EVENT
You may enter responses by within 3 days of the Date Night. That gives you 72 hours to enter your responses on to your account.
You can see your results in the Group Dating >> See Results page https://www.meetndate.nl/en/group-dating/
There are 2 types of Results available.
Compatibility Match – Based on the Questionnaire you and your partners filled out

You can see this % percentage on your date partner's profile. You can see their profile in the Group Dating Page >> Event Date >> See Results >> See Compatibility Match Result(View Profile)

Interest Match – Based on how you responded to each of your partners you met with

You can this % percentage in the Group Dating Page >> Event Date >> Interest Match Results.
Date Partners' Contact Details:
After seeing the results and thinking about different people you met, you might want to contact them. You can also request contact anytime after the event by emailing us at [email protected] and we will forward your contact details from your profile to the person you want and they will contact you should they want to
MISSED THE EVENT?
For participants who were not able to make it to the event may log in to their accounts where they have chance to see profiles of attendees(visible after results are available). Provided yourself and the other member has completed the "Questionnaire" you will get a combined match in % on their profile.
You may then make a request by emailing us if you wish to contact that member and we will forward your details to them after which they may contact you directly for a 1-1 date. We do not publish nor provide contact details of any member to anyone. Based on your contact request we can only forward your details to selected member from the event.
When visiting profiles of other members you might see for example 50% match, or 80% match or even 2% match or 0% match etc. A very low score might be because yourself or other member has not completed the questionnaire section.
GOOD TO KNOW
Dress sharp, relax and be nice. It is very attractive!
Try to avoid thinking about your stressful life
Try to avoid talking too much about your work
Try to be positive and understanding
Any questions in questionnaire and responses are all optional. Please do not take them literally. The best judge of who is your match is yourself and the other person. Any results we provide are based on answers from each side and are for advisory purpose only
Some attendees prefer to not complete their questionnaire, profile and responses. In that case the results may be skewed and incomplete
If you have any questions or difficulties just email us at [email protected]
I hope you have a good evening and perhaps see you again. You are free to book with us again and again and you will meet new people because we monitor to see if you have already met them so you will always be meeting new people.
Tell your friends about us : )
Good Luck!